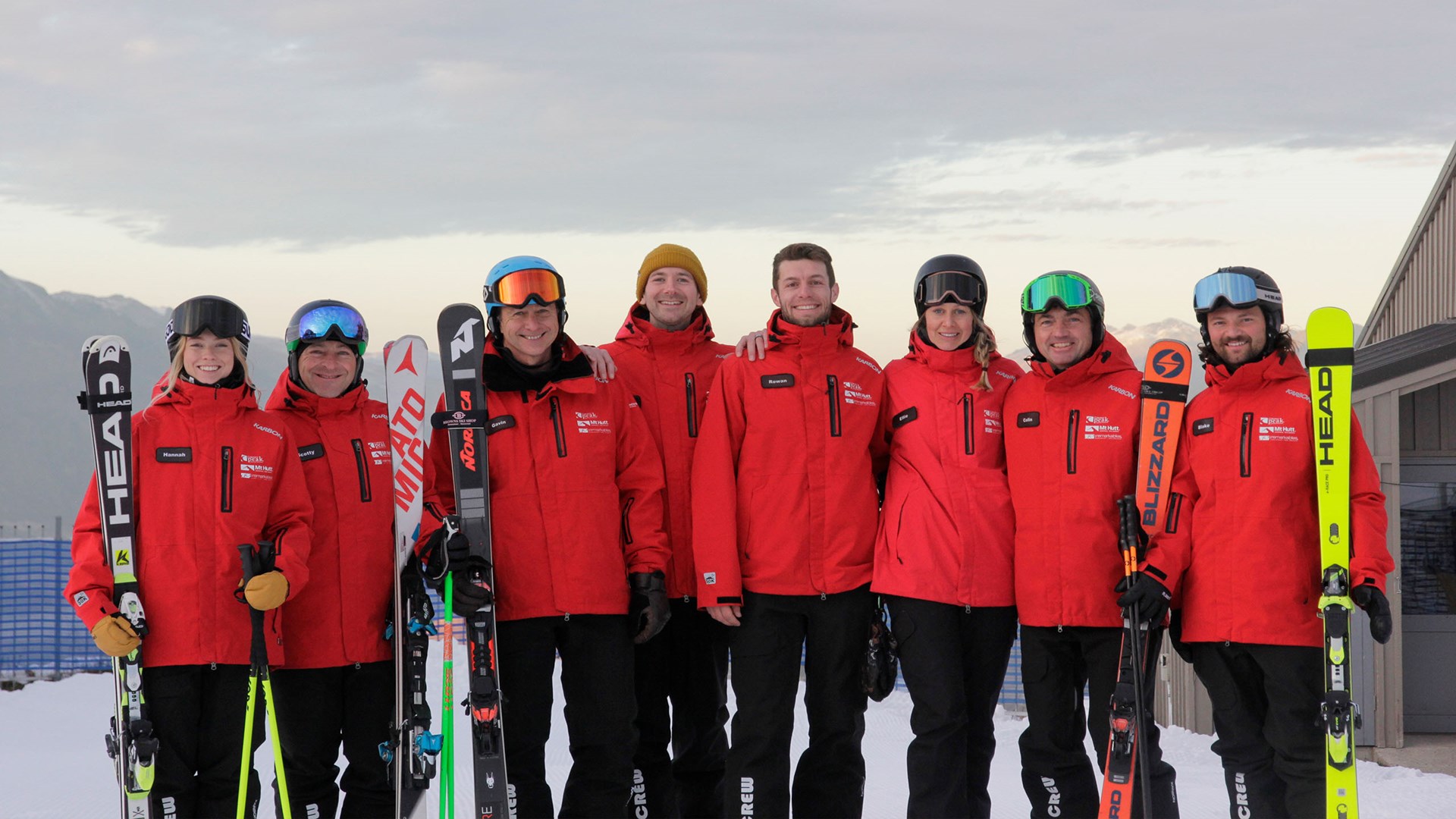 Employment FAQs
What it's like to work with us
We've shared a little more about what it's like to work with us below and answered some of the FAQs we get.
If you have any more questions about what it's like working a winter season or about a particular role just email employment@nzski.com.
Why spend a winter with us?
Why work for us?
Besides getting to work in some of the world's most stunning alpine locations and working with fun and welcoming people, there are a few decent benefits as well.  
Here's just a few: 
A free Seasons Pass for four mountains (yes four) - lift access to Coronet Peak, Mt Hutt, The Remarkables and Ohau ski areas for full-time seasonal crew.

Free transport to work (and on your days off). 

Great learning and development opportunities including access to 25+ nationally recognised qualifications (most are free) and our own NZSki-U professional development programme. 

Free group skiing or snowboarding lessons. 

Great recognition programmes.

An employee wellbeing care programme for those times when you are finding things a bit tough.

Discounted staff lunches, food and drinks, rentals and retail at our on mountain facilities, local business discounts in retail shops, cafes, gyms and activities in Queenstown, Methven and beyond. 

 
Our crew are respectful, professional, ethical, resourceful, enthusiastic, honest, adaptable, approachable and responsible. 
We also work hard as a team. 
It is everybody's job to get the mountain open and running, so sometimes the work will be hard. Shovelling snow, directing traffic; we all pitch in to get the job done, no matter what the job is. We know this so we encourage you to make the most of your time off but do so safely.  
When do I need to be available for work?
For most of our roles it would be great if you can work the full season - from early June to mid October. If this doesn't work for you, we have some roles that are available for part of the season or during our peak periods e.g. school holidays. Just let us know your availability when you apply!  
I'm happy to do any kind of ski job, what should I apply for?
Great! We look forward to your application. 
When selecting which role would suit you, ask yourself:
Do I want to work inside or outside? 

Can 

I 

work night shifts

?

Do I have any previous experience in an area we are recruiting for

 (

does not

 need to be 

experience 

in the ski industry)

? 

Can I ski or snowboard?
Some positions require a specific level of experience and/or qualifications, these requirements are clearly listed in our job listings.  
Why can't I see the ski job I wish to apply for?
Generally, our vacancies are posted from March onwards. If you can't see the role you want, its likely not vacant this year, so we encourage you to look at our other vacancies because we'd love to have your onboard.   
How long is the winter ski season in New Zealand?
Our season typically runs from June to October, weather and conditions permitting. We know that the weather is unpredictable.  
Should I buy a season pass at the Earlybird rate?
Yes, if you end up employed with us, we'll refund the full price of your pass if you haven't used it. If you have used it then we partially refund the cost. The best idea is to talk to your manager before you use it to check the status of your pass. 
Can I get a second job elsewhere while I am working for NZSki?
Yes, we encourage you to ask your manager if there are more hours (it could be in another department). If you can't, let your manager know beforehand to ensure that it will fit around your job with us. It's always better to clarify in advance. 
What if I get injured on the mountain and can no longer work?
In New Zealand there is the Accident Compensation Corporation, commonly referred to as ACC. They assist anyone who has an accident or injury in NZ. The amount of assistance varies and can be from medical bills to loss of earnings. In the first four weeks of your employment you will generally NOT get help with loss of earnings. We will try and get you back to work as soon as possible by offering you alternative light duties where available, but this is entirely dependent on your injury. Our advice is to take it easy and be mindful of your own safety while you are skiing and snowboarding. 
How much work will there be during the season?
Our busy periods usually run from the end of June to mid-September so there will generally be plenty of hours at this time. We advise everyone to take the hours when they are available and save up to help get you through if there are quieter periods. 
Can I make changes to my application once I've submitted it?
Unfortunately, no, you are unable to make changes once you've submitted your application so be careful. Our advice is to check, check, check before you submit! 
Do you conduct telephone or skype interviews?
Yes, in most departments we use a one-way video interviewing platform where you'll be asked some pre-recorded questions and you will have the opportunity to record your response. If we need to ask more questions, we will follow up with an in-person interview or video call.  
What are my chances of getting a job?
Our winters are legendary.  Our decisions are based on merit – the right attitude, skills and experience are essential. It is not first come, first served. All applications received by the closing date will be considered. If you're a talented individual, you'll hear from us.  
Can I email my CV directly to you?
No, please do not email your application directly. We get hundreds of applications in a very short amount of time and find our online system is the only way we can successfully manage them. Find out more and apply for all positions on the NZSki job application website. 
I am based outside of New Zealand and the borders are closed, can I apply for a job?
If you are a NZ citizen or are a NZ residence class visa holder (including Australian citizens and permanent residents who are ordinarily resident in NZ) you are eligible to apply and will be allowed entry into the country (as of 12 February 2021). 
If you do not classify in this category and are based outside of New Zealand, you can't enter the country until the border restrictions have improved. This may change so we encourage you to keep an eye on the immigration NZ website for updates.   
Is there staff transport to and from the mountain?
Queenstown:
We provide free transport for our staff on rostered working days to and from central Queenstown and the mountains. In addition to this, the majority of residential areas in Queenstown through to Frankton have a free morning and evening service to central Queenstown. Fernhill, Lake Hayes Estate and Shotover Country have a morning only service. A $2 public bus service is available to and from many other areas as well as the evening services back to Fernhill, Lake Hayes Estate and Shotover Country. For more information on this service please visit www.orc.govt.nz/public-transport/queenstown-buses  
Methven:
We provide free transport for our staff on rostered working days to and from central Methven to Mt Hutt.
We also provide free transport to and from our ski areas on your days off from central Queenstown and Methven on a space availability basis.  
Does it matter where I choose to live?
For those at Mt Hutt, provided you live in Methven you're fine.  
For Coronet Peak and The Remarkables, where you choose to live in Queenstown can impact on your work/life balance as the travel times will vary quite a bit. 
If you are working at The Remarkables, your travel times to and from Frankton and Frankton Road will be the shortest. Central Queenstown will be moderate. Fernhill, Lake Hayes Estate and Shotover Country will be the longest. Arthurs Point and Kelvin Heights are not serviced by the staff bus. 
If you are working at Coronet Peak, your travel times to and from Arthur's Point will be very short. Central Queenstown will be short. Fernhill, Frankton Road will be moderate. Frankton, Lake Hayes Estate and Shotover Country will be longer. Kelvin Heights is not serviced by the staff bus. Actual travel times will vary depending on traffic, weather and road conditions. 
Is staff accommodation available?
Unfortunately no, we do not provide staff accommodation in either Queenstown or Methven. We aim to facilitate putting you in touch with local accommodation providers and families that have spare rooms. For further information on accommodation and general information on both areas visit the sites listed below.  
Do you provide staff meals?
We have staff meals at a heavily discounted rate available for you on the days you are working. They are warm and healthy meals. 
Do you provide staff uniforms?
Yes, we provide staff uniforms. They are warm uniforms designed to suit the needs of the job. Most roles require you to supply your own footwear and if your job involves skiing or riding around the mountain or between work-stations then you will need to supply your own skis or snowboard. Uniforms are loaned to you for the time you are employed with us and need to be returned in good condition. If you return them damaged or lose them, then you can expect to be charged for the cost of fixing/replacing them. 
Where is it better to live and work - at Coronet Peak or The Remarkables near Queenstown, or Mt Hutt near Methven?
It depends on what kind of experience you are looking for, as all three mountains differ. Get to know the mountains by checking out our website and Facebook pages. 
I loved my winter with NZSi. can I work for you in the summer?
In the summer we employ only 55 permanent and 40 summer seasonal crew for Coronet Peak, so opportunities for summer jobs are very limited.
However, we are part of Trojan Holdings, which has interests in several businesses in the South Island including The Hermitage Mt Cook Hotel and Ultimate Hikes. If you are keen to work for them in the summer, check out the newsletters and staff communication during the winter to find out how to apply. 
What's the weather like?
The weather in an alpine environment is variable!
Some days the sun is shining with blue skies and warm temperatures of around 10-15 degrees.
Some days the temperature can drop to minus 10 degrees or it's snowing and you still need to work outside. 
Thankfully the good weather days tend to out way the bad! 
Health and Safety
It is vital you feel safe at work and that we provide a safe environment for you and our guests. To do this it takes commitment from everyone. We have high standards and recruit a team that share these standards.  
Employee care programme
Everyone benefits from some extra support from time to time, and we actively encourage it. Life can be full on, so whether you're new in town, it's your first time away from home, or its your 10th season, life pressures can get the better of you! We work with external local agencies to support you, so if this sounds like you and you don't want to make a big deal about it, reach out to your HR team, judgement free! 
Smoke Free
The Remarkables & Mt Hutt ski areas are leading the way with New Zealand's 2025 vision of a smoke-free country and our company goal of providing a healthy workplace for our crew.
The Remarkables & Mt Hutt are smoke-free environments for both guests and crew alike. This means you cannot smoke anywhere from the ski area access road up to the top of the lifts.
Coronet Peak will join the smoke-free initiative in the future. When you are employed by NZSki, you may not smoke in uniform at any time, whether on or off the clock, on or off the mountain.